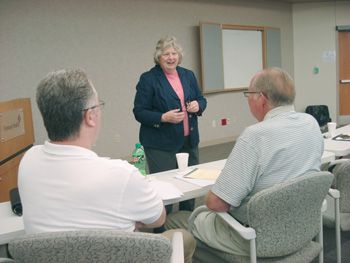 The Fremont Area Community Foundation is keenly interested in nonprofit capacity building because we believe that strengthening our area nonprofits ultimately strengthens our entire community.
The Nonprofit Leadership Program is a year-long series of trainings designed to help executive directors and their board chairs evaluate and strengthen their management practices and principles to achieve greater impact. Led by Mary Lee Fitzsimmons, a nonprofit organization management consultant, the program has helped both new and long-time organizations reach for the next level of operational, programmatic, financial and organizational maturity.
Hats off to the 12 area nonprofits that have participated in the Fremont Area Community Foundation's capacity building initiative!
Care Corps

The Bridge (formerly the Crisis Center for Domestic Abuse)
Dodge County Humane Society
Fremont Area Art Association
Fremont Area Habitat for Humanity
Fremont Ice Association
Jefferson House
John C. Fremont Days
Joseph's Coat (Blair)
Keene Memorial Library
Low Income Ministry of Dodge County
Rebuilding Together, Greater Fremont Area, Inc.
---

"Thank you for the amazing wealth of knowledge that (we've) gained through our time with Mary Lee. This is a truly wonderful program…We are headed in a great direction to make DCHS an even stronger presence in the community."
                                                         --Kelli Stuehmer, Executive Director, Dodge County Humane Society

---
"This program helped me and my board evaluate and strengthen our management practices and principles to achieve greater impact...Together we are truly making a difference in the lives of those in need."                                --Lyndsay Osborn, Executive Director, Low Income Ministry of Dodge County

---