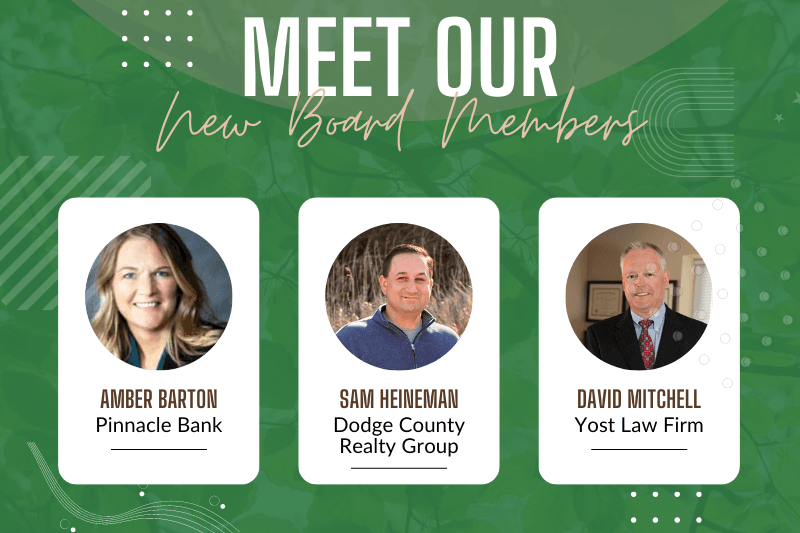 The Fremont Area Community Foundation recently elected three new members to it's Board of Directors, Amber Barton, Sam Heineman and David Mitchell.
Amber Barton is Senior Vice President and Commercial Loan Officer at Pinnacle Bank. Throughout her career she has enjoyed volunteering on many non-profit and civil boards in the Fremont community. She currently sits on the Trinity Lutheran Church Leadership Board, the Midland University Board of Trustees and is Acting Chairman of the Dodge County Head Start. She also is helping spearhead the FEVR Rail to Trail initiative. Amber's past volunteering experience includes Care Corps Life House, Fremont Area United Way, Fremont Area Habitat for Humanity, Fremont Planning Commission and Fremont Housing Rehabilitation Board.
Sam Heineman began his professional career in public accounting with Seim Johnson in Omaha. He would leave Seim Johnson to pursue his goal as an entrepreneur, starting with the purchase of his first Anytime Fitness franchise in 2011. He founded Dodge County Realty Group in 2017 and served several years as managing broker before becoming a full-time real estate investor. Today Sam owns and manages a diverse portfolio of commercial, hospitality, and residential real estate, and is proud to be participating in the redevelopment of downtown Fremont. He has done this both as an investor/developer and serving in his current role as the President of MainStreet of Fremont. Sam also serves as an appointed board member on the Downtown Business Improvement District.
David Mitchell is a personal injury and commercial litigator with over 30 years of experience and success in the courtroom. He has served multiple boards and charitable initiatives including: the Greater Fremont Development Council, Fremont Family YMCA, and the Encore Campaign to refurbish the Nell McPherson Theater at FHS. Dave is also the co-creator and champion of Wishing Wheels, a fiscal sponsorship fund under the FACF umbrella that raises money to provide bikes to area kids in need.
The Board of Directors also recognized and thanked retiring board members Barry Benson, Jane Dugan and Bob Hillis for their invaluable service, passion and dedication to advancing the FACF's mission of improving the quality of life in the Fremont area.