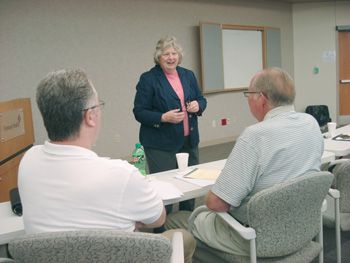 The Fremont Area Community Foundation is keenly interested in nonprofit capacity building because we believe that strengthening our area nonprofits ultimately strengthens our entire community.
The Foundation provides access to resources and investments based on the unique needs of the participating organizations which can include and are not limited to the following programs and services:
Nonprofit Resource Program
is a year-long series of trainings designed to help executive directors and their board chairs evaluate and strengthen their management practices and principles to achieve greater impact; the program has helped both new and long-time organizations each for the next level of operational, programmatic, financial and organizational maturity.
The 12 area nonprofits that participated in this program were: Care Corps,The Bridge (formerly the Crisis Center for Domestic Abuse), Dodge County Humane Society, Fremont Area Art Association, Fremont Area Habitat for Humanity, Fremont Ice Association, Jefferson House, John C. Fremont Days, Joseph's Coat (Blair), Keene Memorial Library,Low Income Ministry of Dodge County, Rebuilding Together, Greater Fremont Area, Inc.
JumpStart Program
Fremont Area Big Give
Through participation in the Fremont area Big give, nonprofits have access to valuable training and resources, on topics such as: social media, video production,