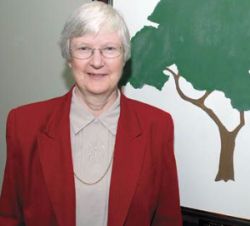 The purpose of the Betsy Mulliken Award for Philanthropy is to honor community members who have made an impact in our community through volunteerism or philanthropy. It is named after Betsy Mulliken who served as executive director of the Fremont Area Community Foundation for from 1998-2006 and shared a strong commitment of giving back to the Fremont area.
Award Criteria
Activities for which the recipient is being recognized must directly benefit the Fremont area and its citizens.
The recipient's service must be voluntary.
The recipient cannot be a current member of the Fremont Area Community Foundation Board of Directors or staff.
The recipient must be someone who has distinguished him or herself as a philanthropic leader whether through volunteerism, financial resources or both.
The award may be given to an individual, family or company and can be awarded posthumously.
The recipient will be selected by the Executive Committee and approved by the Board of Directors of the Fremont Area Community Foundation.
The nomination deadline is July 15th. Please download the nomination form or contact us for a copy of the form.
Recipients of the Award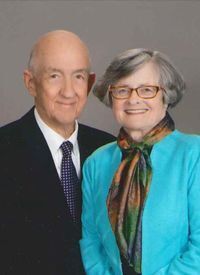 Charlie and Mary Lou Diers - 2022
In 2019, Ford Motor Co. honored Charlie and Mary Lou Diers with the Salute to Dealers Award in recognition of their efforts to "step beyond their showroom doors" to make a difference in their communities and improve the lives of others. Since becoming the youngest Ford dealer principal in the U.S. when they took over the dealership in 1964, the Diers have developed and grown their community along with growing their business.
Their outreach extends to St. Patrick's Catholic Church and Archbishop Bergan School with the donation of 20 acres of family farmland for one of Nebraska's largest Catholic parishes, St. Patrick's Catholic Church. They were lead donors and fundraisers for building the church and adjacent elementary school. Additional land surrounding the church is being developed as part of a long-term plan to help grow Fremont. The Diers have donated a new vehicle for the past 51 years to the annual St. Patrick's Fun Festival, raising more than $1 million.
Charlie and Mary Lou are long-time supporters of the Fremont Area Community Foundation, Midland University, Fremont Area Chamber of Commerce, the Fremont Rotary Club, Fremont Area United Way, Fremont Area YMCA, Habitat for Humanity, Keene Memorial Library, the Fremont Health Foundation and John C. Fremont Days. Charlie is a founding member of both the Fremont Area Community Foundation and the Greater Fremont Development Council. The Diers are members of the foundation's Legacy Society.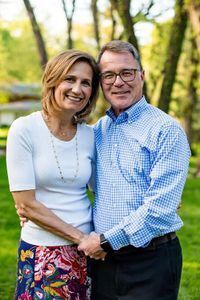 Russ and Jennifer Peterson - 2021
Owners of Nye Health Services, Russ and Jennifer have a long career of providing leadership to a number of nonprofit organizations and community initiatives that aim to enhance quality of life in the Fremont area.
Russ recently completed 18 years of service on the foundation's board of directors, serving in every office from Secretary/Treasurer to President, and on most if not all foundation committees, including grants, development, investments, strategic planning and more. Always a champion of our work and purpose, Russ continues to support the foundation as an ex-officio on the board and ad-hoc member of our Investment Committee. Russ also helped spearhead the capital campaign for the Care Corps' shelter as board president, facilitated community initiatives such as the "Pathfinder Project: Forging Fremont's Future," the Recreational Facilities Collaboration Group, and a City of Fremont strategic planning process. He has also served on the boards of the Greater Fremont Development Council, the Salvation Army, and numerous health care industry associations.
Jennifer has served on the boards of The Bridge, Midland University, Jefferson House, the Fremont Public Schools Foundation and Keep Fremont Beautiful, and been actively involved in many committees of the Presbyterian Church.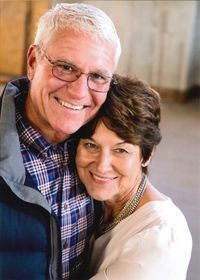 David and Sheila Monke - 2019
David and Sheila Monke focus their commitments of time and talents to make life better for everyone in the Fremont area.
Not only did Sheila complete nine years of service on the foundation's board of directors, she served as board secretary for the Fremont Health Foundation, president of The Bridge, and volunteered for the Coalition on Human Trafficking. In 2014, Sheila was recognized by Gov. Dave Heineman as the Nebraska Mothers Association Mother of the Year.
But it was her passion for helping youth that inspired her and a team of "moms" to create "Roots to Wings," a nonprofit organization with the mission of offering employment opportunities and improving the quality of life for those with disabilities. Sheila put her experience as a special education teacher to work and that organization thrives today as an educational resource for families throughout the area.
David and Sheila, owners of Nebraska Irrigated Seeds, have supported numerous charitable organizations throughout the Fremont area, including the Fremont Family YMCA which has benefitted from David's leadership for many years. Dave served on the Y board for 23 years including as chairman and chief volunteer officer, and the YMCA Foundation Board. An avid pilot, Dave has also served on the Airport Advisory Committee.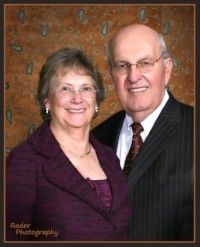 Dick and Marty Wikert - 2018
The Fremont Area Community Foundation has been blessed by Dick and Marty Wikert's philanthropy. Dick was a foundation board member in the early 1990s and played an integral role in moving the foundation forward. Marty served on the foundation board from 1994-2010, helping the Grants Committee review applications and recommend funding decisions to benefit the Fremont area. She was also an active member of Job's Daughters and the AJ-PEO Chapter.
Both Dick and Marty supported such civic organizations as the Fremont Area Chamber of Commerce, Greater Fremont Development Council, the Fremont Health Foundation, the Fremont Opera House, and the Mid-American Council of the Boy Scouts of America. They attended Morningside College in Sioux City, Iowa, where Dick served on the board for 21 years and received the college's Distinguished Alumni Award in 1995. The Dick and Marty Wikert Dining Hall was dedicated at Morningside in 2008, recognizing their dedication and leadership. Dick and Marty were also longtime supporters of Midland Lutheran College (now Midland University), and were honored for their generous contributions and board leadership with the dedication of the Wikert Event Center in 2016.
Dick Wikert, who passed away in December 2012, was a successful businessman who was inducted into the Fremont Business Hall of Fame in 2009. His career included leading R&M Companies, serving as president and chairman of Taylor and Martin Auctioneers, pursuing interests in business schools in Lincoln and Omaha, a partnership in a soybean farming operation in Brazil, serving as founder and partner of Liberty Banks in Iowa and Arizona and as a majority owner and chairman of American National Bank of Fremont. But his and Marty's legacy is their passion for community, their commitment to helping others, and their wonderful family.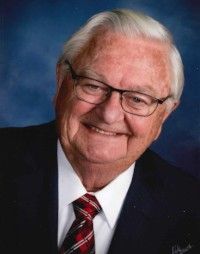 Loren Nothwehr - 2017
If "philanthropy" means giving of your time, talents and treasure, no one is more deserving of the Betsy Mulliken Award for Philanthropy than Loren Nothwehr.
Shortly after his retirement from the telephone industry in 1991, Loren began his second career as a community volunteer and nonprofit advocate. The list of his contributions is long. He helped establish the Fremont Area Habitat for Humanity and served six years as its volunteer director, helped select sites for Habitat homes and assisted the construction efforts. He served as advisor to the Middle States Region of Habitat for Humanity International, led workshops and assisted in performance reviews for Habitat affiliates.
Loren also helped rehabilitate the old Downtown Motel to create the homeless shelter now called Care Corps Family Services. He served two terms as Care Corps Board President, as a member of the Buildings and Grounds Committee, and as volunteer shelter maintenance handyman. Three times he was appointed by then-Governor Ben Nelson as Commissioner on the Nebraska Interagency Council on Housing and Homelessness, and was a member of the Dodge County Collaborative Team.
Following his term on the Care Corps board, Loren began the process of creating another Fremont nonprofit, this one with a mission to transform the lives of low income homeowners by improving the safety and health of their homes. Now known as Rebuilding Together-Platte Valley East, the organization serves homeowners throughout the Fremont area and has a branch office in North Bend.
"Loren has always had incredible vision for the needs of people and our community," says a friend. And the Fremont Area Community Foundation is pleased to honor that vision with the Betsy Mulliken Award for Philanthropy.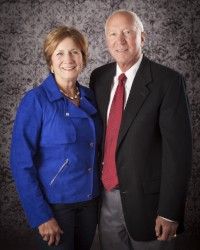 Tom and Deanna Wolf - 2016
"There is hardly an organization in the Fremont area that is not touched by the generosity of Tom and Deanna Wolf," says a friend of the couple. "From providing paper products for a fundraiser to thousands of dollars or hours of their time, Tom and Deanna are exemplary citizens."
Tom is president/chair and Deanna is vice president of Platte Valley Bank in North Bend. Tom has served as an area Aksarben ambassador since 1974, was chairman of the Nebraska Bankers Association, and past president of the North Bend Chamber of Commerce. He has also served on the Fremont Family YMCA board of directors, as treasurer of the North Bend Area Community Foundation, as a charter member of the Jaycees and Optimists, a member of St. Charles Catholic Church and the Knights of Columbus.
Deanna served on the board of the Fremont Area Community Foundation, was a founder and first president of the North Bend Area Community Foundation and currently serves as its treasurer. She has served as a 4-H leader and Boy Scouts secretary-treasurer, and is a 3-year member of the Aksarben Women's Ball Committee. Deanna is president of School District 14, a past president of PEO, and has served as a St. Charles CCD teacher and member of the St. Anne's Altar Society. She has served in leadership positions for the Fremont Area Habitat for Humanity, Dodge County Historical Society, North Bend Library Foundation and Morse Bluff School Board.
Deanna helped spearhead an effort to create a 150-year History of North Bend, Nebraska book. It serves as a valuable resource for genealogy and history of the area. She also helped plan and execute a town celebration for the 150th anniversary of the settling of North Bend.
More than 25 years ago, the Wolf family adopted a section of Highway 79 to keep that stretch of road free of trash. They continue that tradition today and have set the example for their children—Tom, Katy and Alex—who are active volunteers within their own communities.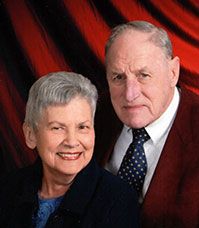 2015 - Neil and Bonnie Schilke
Neil and Bonnie Schilke exemplify the spirit of philanthropy not only through their generosity, but also through their service and dedication to the community and commitment to providing opportunities for youth in the Fremont area. Neil has served as a chairman and board member for numerous civic, charitable, business and political organizations, and held national offices in three organizations. He holds a Honorary Doctorate from Midland and is a member of the Nebraska Tennis Hall of Fame. He has been a volunteer coach of the Fremont High School Tennis Team, as well as manager and coach for an American Legion baseball team and many youth baseball teams. Bonnie has spent her life singing, playing the piano and the organ. Many have heard her at weddings, funerals, and wherever a beautiful voice is needed. She is also a Stephen Minister at Salem Evangelical Lutheran Church where she and Neil attend church. 
As trustee of the Schilke-Novak Kids Sports Trust, Neil initiated the project which financed and built Schilke Fields just east of Fremont. The complex was built and endowed because the Schilkes believe in the importance of youth participation in organized sports. "My dream is that these fields far into the future will be filled with children playing ball...to see some younger children so excited about playing ball that they go to bed with their ball gloves," Neil once told the Fremont Tribune.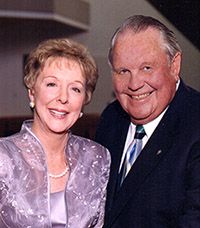 Rupert and Ruth Dunklau - 2014
The Dunklau's generosity has made a tremendous impact on the Fremont area. Rupert is President of the Rupert Dunklau Foundation. He has served on numerous other boards and committees including Wheat Ridge Ministries, The Lutheran Church—Missouri Synod, the LCMS Foundation, Concordia Publishing House, Board of Directors at Valparaiso University, Board of Trustees for the Lutheran Hour Ministries Foundation, Dakota Boys Ranch, and Midland Lutheran College Foundation. Midland University honored Rupert by naming its School of Business the Dunklau School of Business. Lutheran Family Services of Nebraska honored Rupert by naming their Fremont Center for Healthy Families the Rupert Dunklau Center for Healthy Families. And recently Fremont Health renamed it's Merrick Manor Dunklau Gardens. Ruth Dunklau enjoyed a career in retail management for 25 years. During that time she served as store director at both Joseph Magnin and Mervyn's.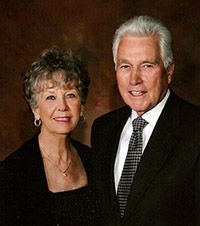 Sid and Hazel Dillon - 2013
"When you have it, you need to share it." Sid and Hazel have lived by those words for nearly 40 years as members of the Fremont community, sharing both their time and resources to support numerous non-profit organizations and initiatives throughout the region. Their commitment to Fremont, service and philanthropy has touched many lives in our community, through such organizations as Lutheran Family Services, the Fremont Area United Way, Habitat for Humanity, Midland University, the Fremont Area Medical Center Foundation, the Fremont and Blair YMCAs, the Boy Scouts of America, Fremont Care Corps and the Fremont Area Community Foundation, and soon the Sid and Hazel Dillon Family Aquatics Center will be serving children and their families at the Fremont Family YMCA.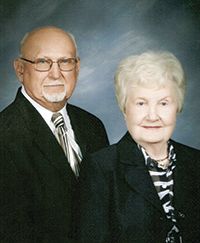 Dale and Fern Olson - 2012
The names Dale and Fern Olson have become synonymous with the words service, dedication, and philanthropy. Their lifelong commitment to making an impact in the community has been seen through countless volunteer hours through board membership, and donations that have provided for a high quality of life for all people in our community. Service has included board membership at the Fremont Area Community Foundation, Fremont Area Art Association, YMCA, Fremont Rotary Club, Midland University, and Fremont Area Medical Center to name a few. Benefiting countless area organizations, Dale and Fern have also served as honorary chairs of the United Way campaign and Fremont Opera House Renovation campaign.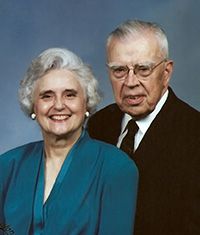 John and Audre' Kerrigan - 2011
John and Audre' Kerrigan are the epitome of the word stewardship. Throughout their lives, they have served on numerous boards and committees always advocating for the betterment of the community. Audre' continues to serve as a trustee and steward of the Hazel R. Keene Trust, which has benefited communities and organizations across Dodge County.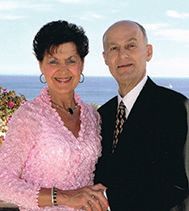 Jim and Sherie Ebers - 2010
Jim and Sherie have been actively involved in their church and community all of their adult lives. They have considered it an honor and privilege to serve for and with other community members on many agency boards and community fundraising events. They are humbled by everything Fremont and its citizens have done for their family.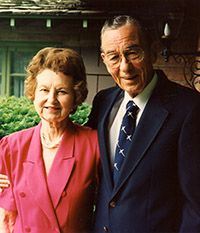 The Paul and Marcella Christensen Family - 2009
The Christensen family was recognized for their commitment to Fremont through many organizations. The family began donating farmland west of the city in 1977, which is now known as Christensen Field. Many of these improvements were also the result of donations from Paul and Marcella. The family also has a donor-advised fund with the Foundation.