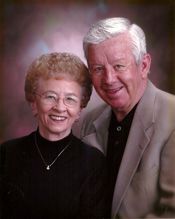 Patients finding it difficult to afford beneficial aquatic warm water therapy have help, thanks to Phyllis and the late Bob Monke. The Medical Assistance Fund for Aquatic Therapy was established by a generous gift from the Fremont couple who themselves have benefitted from this type of therapy.
According to Nye Health Services' website, "Swimming is an ideal therapeutic activity for older adults when the water is warm. The temperature of Nye Legacy's pool is a balmy 90 degrees, so it soothes painful joints and makes being in the pool an enjoyable experience."
For Bob Monke, who battled Parkinson's disease for 10 years, aquatic warm water therapy helped ease his symptoms tremendously. He felt others in the area could benefit as well and didn't want cost to prevent someone from getting therapy, so the idea of the Medical Assistance Fund was born.
Aquatic therapy has been proven to offer incredible strength, lean muscle, balance and flexibility gains in all populations, including those with paralysis or limited movement. Warm water aquatic therapy is available at Nye Health Services, Fremont Health, and Fremont Therapy & Wellness, and eligible patients can seek treatment at any of these facilities.
Download the application or for more information about the Medical Assistance Fund for Aquatic Therapy, please call Melissa Diers 402-721-4252.