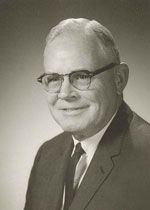 The late Lester A. Walker, publisher of Fre­mont Tribune from 1939-1966, was responsible for developing journalism programs at the University of Nebraska-Lincoln and for mentoring countless students pursuing careers in the newspaper business. He was widely recognized for helping to revolutionize the newspaper industry during his tenure as publisher of the Tribune. Walker provided in his Will that 60 percent of the proceeds of the Lester A. Walker Foundation go to the Fremont Area Com­munity Foundation annually for competitive grants. 
An astute businessman and community leader, Walker had always been interested and supportive of the Fremont Area Community Foundation. He was a visionary and had even proposed the idea of a community foundation as far back as the early 1960's. He was extremely impressed by the support of the Fremont Area Community Foundation's Sustaining Drive, which helps fund administrative expenses. In his words, "this enables the donor's funds to do the work intended."
Although Walker had retired and moved to Arizona, Fremont was always home in his heart. Fremont was home to him, his wife Maxine, and his family. He was very emphatic; he earned his money in Fremont and felt it should be used to benefit the Fremont area after his lifetime.