2019-2020 Youth Philanthropy Contest Winners
Trinity - Nuss
"Homeless Helper Kits"
The goal of this project is to create 100 homeless helper kits for people in need of basic hygiene supplies when unfortunate circumstances arise. These will be taken to Lifehouse.
Trinity/ Archbishop Bergan STEM Club
" "Bridging" the Gap: Engineering Education" 
The goal of this project is to provide an exposure to principals of engineering through hands-on learning for students in the 3rd grade at Washington elementary.
Girl Scout Troop 50151
"Care Kits" 
Care Kits will help kids who can't afford personal hygiene products. These will be taken to Jefferson House, the Hope Center and the Middle School.
Girl Scout Troop 44645
"Cat Gift Boxes" 
Gift boxes will be used as incentives for people to adopt cats at Catz Angels Rescue Effort.
Jenna Larsen
"Smile Bags"
The Smile Bags are filled with fun things to help children in crisis to feel better, and perhaps take their mind off the situation they are in. They will be taken to The Bridge.
Mid-Bluffs Livestock 4-H Club
"Arbor Trail Update" 
The club would like to improve the Arbor Trail by replacing benches at the Saunders County Fairgrounds.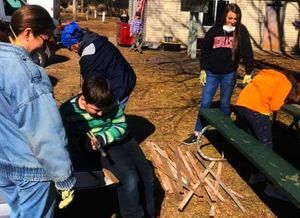 Emily Brodd/ North Bend Scouts
"North Bend Scouts Strong" 
Funding will restore the flooded scout cabin back to working condition by installing insulation, drywall, flooring, and cabinets, painting the walls, and remodeling the bathroom
---