Greater Dodge County Area Responds to Flooding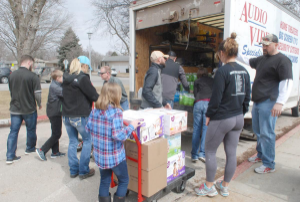 Spring 2019, Fremont and the greater Dodge County area witnessed historic flooding, causing widespread damage and affecting the lives of many in the area. We have compiled a list of those who are supporting the flood relief and recovery efforts throughout the area:
Emergency Alerts and Community Notifications 
Funding Resources
Other assistance and resources:
If you're in need of support, please talk to a clergy member, counselor, or doctor. Here are some resources.
The Nebraska Department of Agriculture has put together a list of disaster relief resources for Nebraska farmers and ranchers seeking assistance due to severe weather. 
Information on road closures can be found on the Nebraska 511 maps or by dialing 511.
The Nebraska State Patrol Helpline is available 24 hours a day for motorists in need of assistance. Dial *55 from any cell phone or 911 in an emergency. 
Case Management hours at the Fremont City Auditorium are from 9 am to 4 pm for those affected by the flood needing additional services – anyone in the area who was affected by these floods is welcome to all supplies and services at the City Auditorium. You do not have to be a resident of Fremont to receive help!
Nebraskans needing property cleanup can contact the Crisis Clean Up Hotline: 833-556-2476.
Farmers in need of hay, feed stuffs, fencing materials, volunteer help, equipment, etc. should call the Nebraska Department of Agriculture at 1-800-831-0550.
Businesses can call the U.S. Chamber's Disaster Help Desk for Business at 1-888-692-4943.
NEMA has set up a hotline for general questions from the public. The number is 402-817-1551.
For all other needs for assistance call 211.
If you have an emergency, you should dial 911.
Salvage Guidance: