NBACF Funds School Pollinator Garden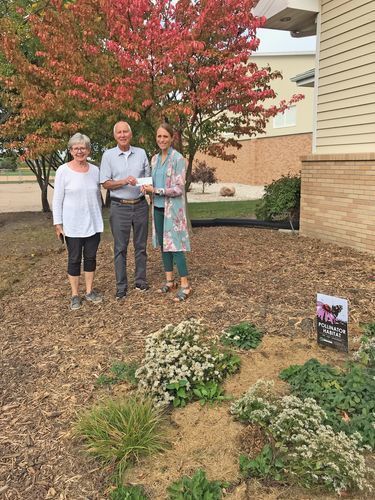 Article courtesy of the North Bend Eagle
A number of North Bend Elementary fifth graders with teacher Becky Streff and members of the Platte River Kids 4-H Club combined their efforts to get a pollinator garden planted on the west edge of the elementary school.
Sarah Buckley from the  Nebr. Statewide Arboretum Bloom Box Program Coordinator brought more than 60 plants for the students. The ground had been roto-tilled by Craig Schmeckpeper and raked multiple times. Buckley came with a design for the area. She would hand the plants to a pair of students, mark off a place for them and the two would dig a hole and plant the plant.
Buckley said that first they planted the showcase plants and then they planted the weed shield plants. She explained to the students how the plants had four jobs: hold the soil, keep out weeds, create a habitat for pollinators and add beauty. A pathway was mulched, the plants watered and an area by the sidewalk was left to be planted in the spring.
This was funded in part by a grant from the North Bend Area Community Foundation.
Top Photo: Students stand around their newly planted pollinator garden.