Unlock the Power of Your Harvest: Give the Gift of Grain to Your Community!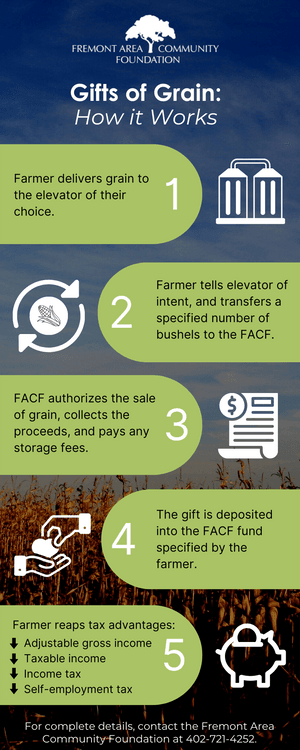 During this season of harvest, we invite you to consider a remarkable opportunity to make a profound impact on your community. Your hard work, dedication, and the fruits of your labor can be transformed into a gift that keeps on giving. How? By donating grain to the Fremont Area Community Foundation!
Why Should You Give the Gift of Grain?
Elevate Your Harvest's Significance: Your harvest is not just a crop; it's a symbol of your commitment to our community. By contributing grain, you can turn it into a lasting legacy of support and positive change.
Create a Family Legacy: Establish an endowed family fund in your name, leaving a lasting mark for generations to come. This fund will continue to benefit the causes you care about deeply, forever.
Support Local Causes: You can channel your gift to support existing funds at the FACF, or even designate it for a specific nonprofit organization that's close to your heart. Your generosity can directly fuel the causes you're passionate about.
Be Part of Something Bigger: By giving a portion of your harvest, you're not just contributing from your fields; you're planting seeds of change and impact across our community. Join us in making a real difference, one grain at a time!
What's in It for You?
Tax Benefits: By gifting grain to the Community Foundation, you can reduce your farm income tax liability. Although a charitable income tax deduction may not be applicable, the advantage lies in avoiding the grain sale as taxable income. You can also deduct the cost of growing your crops, potentially leading to savings on self-employment tax, federal income tax, and state income tax. These benefits apply whether you itemize your deductions or take the standard deduction.
How to Get Involved:
Giving the gift of grain is a simple and impactful way to support the Fremont Area Community Foundation. We're here to guide you through the process, answer your questions, and help you make a difference.
Together, we can transform your bountiful harvest into a powerful force for good in our community. Join us in sowing the seeds of change and building a brighter future for everyone.