A Message to our Friends and Donors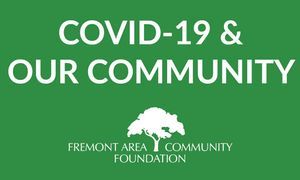 This spring has introduced all of us to an unprecedented event: COVID-19 and the impact community spread may have throughout the Fremont area. School closures. Remote learning. Sheltering in place. Social distancing. Quarantine. Isolation. Personal, family, community and economic impact. These are uncertain times. But panic is not productive. Altruism and action are the answers. As we did following the March 2019 Flood, the Fremont Area Community Foundation is stepping forward, working hand-in-hand with our community partners to assess area needs, facilitate interventions and create solutions to evolving challenges.
And, once again, we're counting on your partnership as together we work to prove ourselves "Fremont Strong" and "Nebraska Strong." 
To support the immediate and evolving needs of our neighbors, please consider a gift to the Fremont Area COVID-19 Response Fund.
We do not yet know what the long-term effects of this crisis will be, but we're working with our grantee partners and other community members to determine where needs are most critical now and where they will likely emerge next. We have asked our partners to serve as the eyes and ears of our community and to help us maintain a running list of community needs and resources as they evolve.
As we learn how best to address COVID-19 together, the importance of regional collaboration and local contributions has never been more apparent. By working together with our friends and neighbors, we can ensure the health and safety of our community as effectively as possible. Be well, stay safe, and please reach out to us if you have questions or ideas that might help. We're here!
On a final note, please consider the perspective of Dr. Bruce DeBoskey, philanthropic strategist and keynote speaker at the FACF's 2016 Annual Dinner: